Description
Teach Microfluidics with Easy-to-Use Components and Automation
LabSmith's microfluidics education kit helps students learn the fundamentals of constructing and automating microfluidic flows.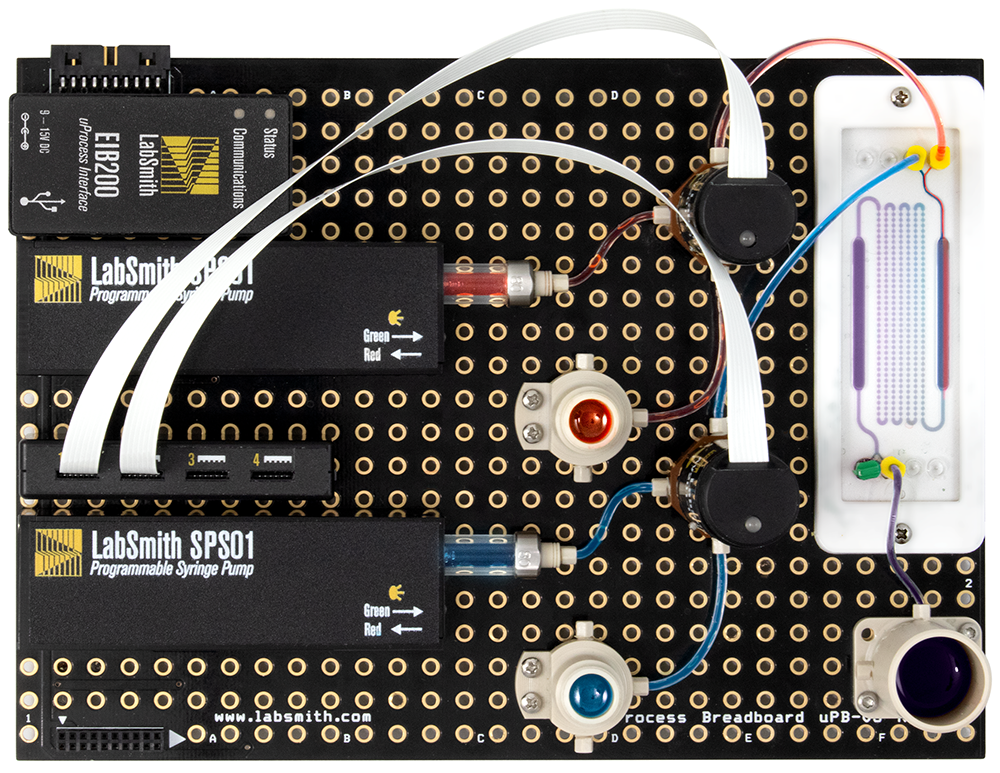 The kit is geared toward introductory college students and includes instruction for co-mixing experiment, patterned flow, and gradient flow, with endless variations as kit components are fully reusable.
1 to 4 students can participate with each kit. No previous microfluidics or programming experience is required. Step-by-step instruction and support videos help students accomplish fluid routing, automation and scripting tasks, to build a basic setup as well as more complex circuits.
Students will learn:
basic microfluidic systems and principles
assembly of leak-free microfluidic circuits
fluid routing, switching and mixing
microfluidic chip functions and connections
automation of pumps and valves
scripting to control flows
calculation of Reynolds number
cleaning and reuse of components.
Kit contents
Product Name

Qty

Product Number

Electronic interface controller with uProcess software

1

EIB200

4-channel valve manifold

1

4VM02

3-port, 2-position automated valve

2

AV201-T116

Automated syringe pumps with glass and plunger

2

SPS01-080-T116

Pearl chain microfluidic mixing chip

1

10001975

uProcess breadboard

1

uPB-05

1-mL breadboard reservoir

2

BBRES-T116-1ML

5-mL breadboard reservoir

1

BBRES-T116-5ML

One-piece fittings

16

T116-100

One-piece plugs

7

T116-101

Tubing, 1/16" outside diameter FEP tubing

1m

TUBE-116-030F

Luer tip manual syringe

1

LS_SYRINGE_LT

Luer Lock manual syringe

1

LS_SYRINGE_LL

Luer Lock adapter

1

T116-300A

Also includes custom chip holder, chip connectors and plugs, liquid dispense bottles, waste cups, mounting screws, screwdriver, and hex wrench.

Detailed assembly instructions and support documentation
Typically ships within 1 week.
Product Resources