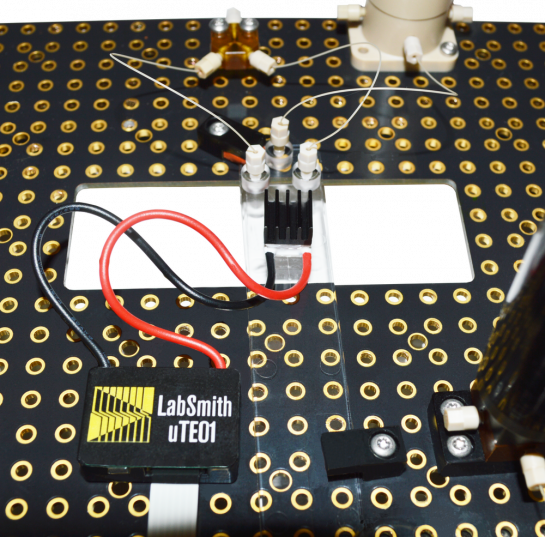 Product Description
The Thermal Control Starter Kit lets you precisely heat and cool their micro-system using the uProcess software.  The uThermal products interface with the rest of the LabSmith uProcess™ product line, which includes syringe pumps, automated valves, pressure sensors and connectors for complete microfludic control. The kit includes a 5% discount off individual component prices.
The uProcess™ product line is a modular breadboard platform for researchers to create and control microfluidic circuits, prototypes and platforms. uProcess™ software lets you program sequences of syringe pump actuations. 
Description
Qty
uThermal-PKG

uTE thermal electric Peltier module (select 2). Includes conductive tape.

2

uTS temperature sensor (select 2)

2

4 channel power manifold 

1

4PM01

4 channel analog sensor manifold 

1

4AM01

uProcess USB interface controller with software 

1

EIB200 

uProcess breadboard with 5 device connections

1

uPB-05

Peltier heat sink (select 2)

2

HS-0808

HS-2020

Mounting and installation accessories

 1 ea.

uTE and uTS mounting screws, LS-TORX
Typically ships within 1 week.
Specifications
Weight:

4 lb

Width:

11 in

Depth:

4 in

Height:

7 in