The AV801 8-position selector valve provides automated routing of microfluidic volumes. At 6.6 cm (2.6 in) high, the AV801 microfluidcs valve is a fraction of the size of available selector valves, making it ideal for microfluidics research and OEM applications.
The compact AV801 has eight selector ports and one common port. Extremely small swept volume minimizes waste and enable high throughput. Fast, reliable geared switching ensures long life.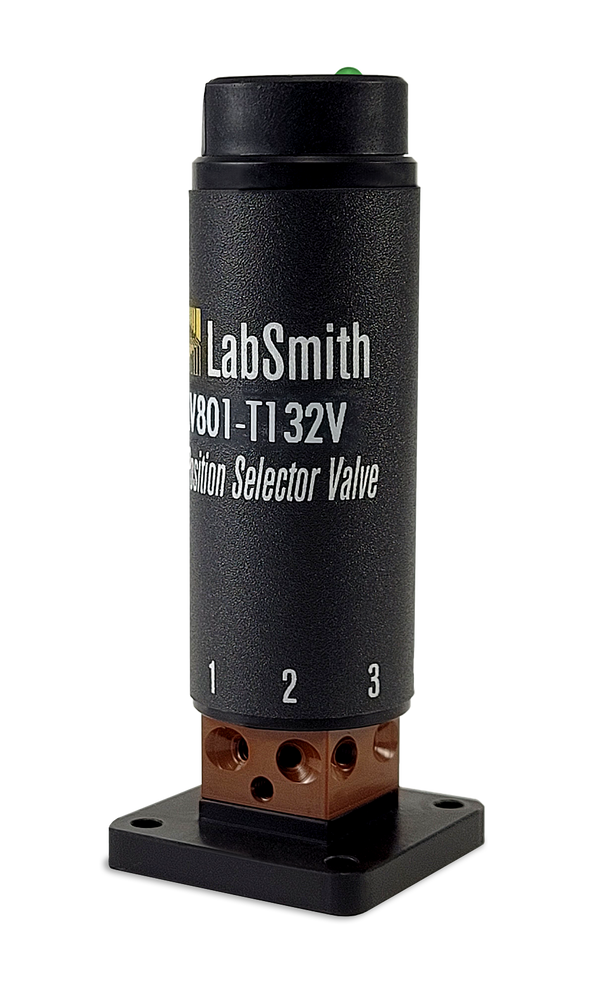 LabSmith's AV801 valves are constructed with either PCTFE or Vespel for wetted materials for use with a wide variety of chemicals. LabSmith's CapTite™ one-piece fittings provide leak-free connections to 1/32" OD, 1/16″ OD or 360 micron OD capillary.
LabSmith's miniaturized 4VM valve manifold provides control for up to four selector valves, with single-cable connections. The breadboard-mounted 4VM is far smaller than other valve controllers, offers additional savings in cost and size for OEM applications.
The AV801 selector valve is the newest component of LabSmith's  uProcess platform, which simplifies construction and control of microfluidic systems. Automated uProcess components include syringe pumps, pressure and temperature sensors, selector valves, temperature controllers and more. Microsoft Windows®-based uProcess software provides straightforward control of all devices. With uProcess users can generate automated scripts to control both simple setups or complex lab automation.
All uDevices are compatible with LabSmith's CapTite™ microfluidic interconnect products for building and rebuilding micro- and nano-fluidic circuits. The addition of the AV801 is part of LabSmith's continued initiative to provide easy to use, inter-compatible microfluidics products for lab and OEM applications.